Volumetric flask DURAN®, cl.A, blue grad, 5:0,025 ml, NS 7/16, H 70 mm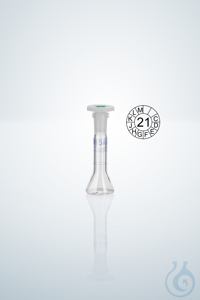 Afbeelding kan van origineel afwijken.
Bestel-nr.: 2960152
17,70 €
Voor 1 stuk(s) (minimum afname: 2 stuk(s))
Volumetric flasks DURAN®, class A, blue graduation, 5:0,025 ml, NS 7/16, H 70 mmv, conical form, NS ground and poly stopper, with declaration of conformity acc. to DIN 12600, with dated batch identification, acc. to DIN EN ISO 1042.
(-) Technical data:
Geregistreerd handelsmerk:
DURAN®
Nominaal volume:
5 ml
Grootte slijpstuk:
NS 7/16
Materiaal:
Borosilicaatglas 3.3
klasse:
A
Netto gewicht:
19 g
Hoogte:
70 mm
EAN Code:
4049338011438
Standaard:
DIN EN ISO 1042
Schaalverdeling:
0,025 ml